There are 5 sections to this module:
Let's Begin with a crash course video on creativity
Think brings you through creativity questions
Dig Deeper looks at a series of articles and videos covering topics e.g. How to Boost Your Creativity Skills in Work and Business and How to Discover How Creative You Are
Discuss covers a series of discussion questions
Finally gives you some final guidance and activities
Course Features
Duration 2 hours
Skill level All level
Language English
Assessments Self
This Module aims to provide you with practical guidance on the different ways you can be creative as a mentor with your mentees through various TED-Ed sections.
---
Target Audience
The target audiences for the DCM Modules are Business Advisors, Mentors, and Entrepreneurship Educators working across the Business Support network including Enterprise Centres, incubators, VET, and Higher Education Colleges as well as private sector accountants and consultants.
---
Learning Objectives
Take this module and you will:
Cultivate and practice your creativity by learning useful tricks and implementing methods and exercises into your mentoring daily
Learn different creative thinking as a necessity and how you can do this by using a variety of tools and techniques
Develop a better understanding of how networking and collaboration foster the development of good ideas and creative thinking in the workplace
Engage with different digital tools which can enhance your role as a mentor and ensure you maximise your creative potential
Why Choose TED-Ed* as a Module Creation Tool?
TED-Ed is an engaging platform that allows users to create and develop an online course, module, or mentoring video for FREE effectively and efficiently
It is easy to use, interactive, and encourages open discussion on the topics at hand
It enables you to customise questions and discussions around the video or content
Videos can be short and to the point
TED-Ed, with its fabulous animations, can often take a boring topic and turn it into engaging, interesting content
Mentors can distribute their content publicly or privately and track the impact it has on receivers
It aims to spark ideas and knowledge-sharing globally, engaging with a remarkable community of thinkers and doers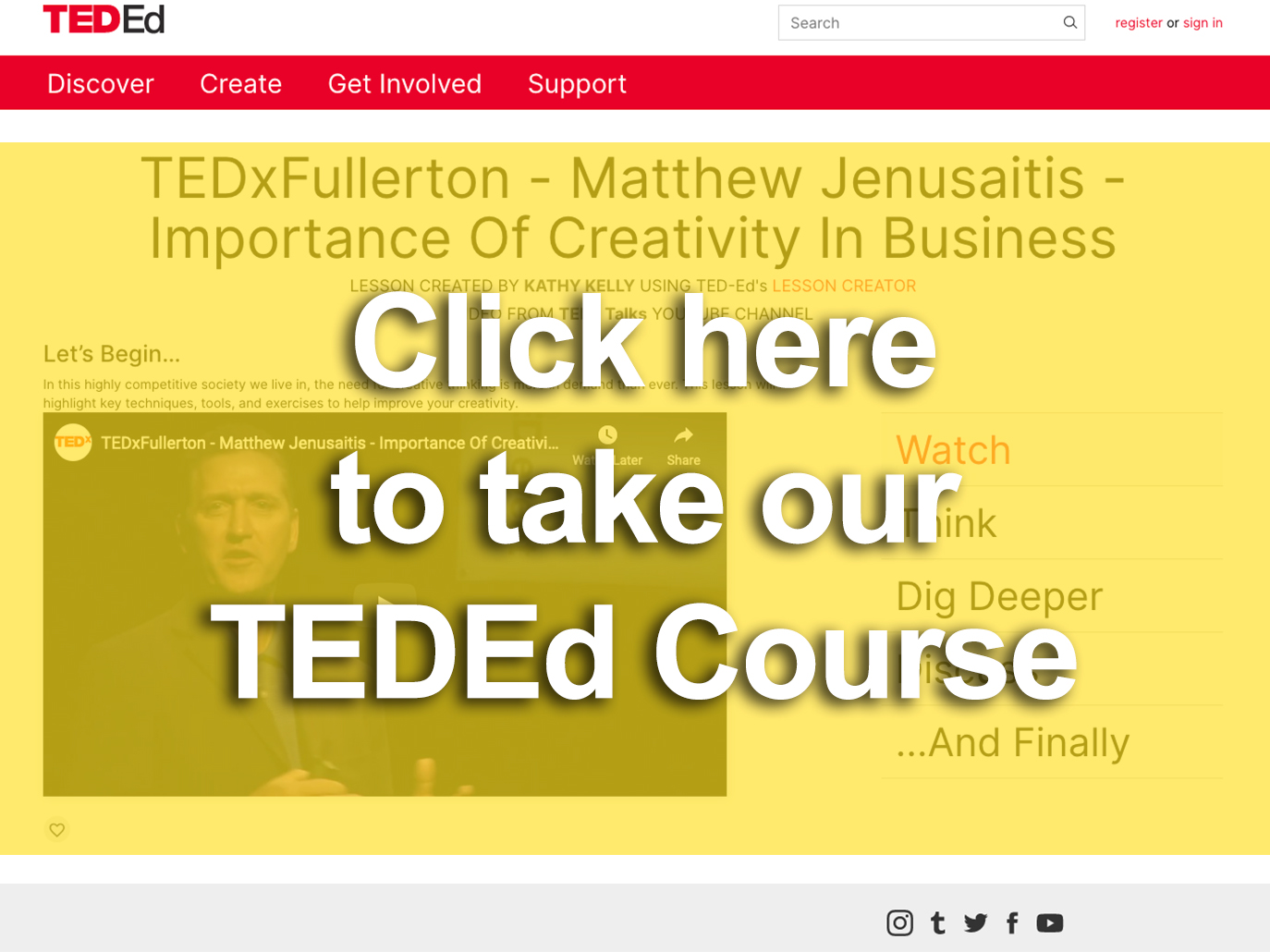 Content in the TED-Ed Course
In this highly competitive society we live in, the need for creative thinking is more in demand than ever. This lesson will highlight key techniques, tools, and exercises to help improve your creativity.
Let's Begin – YouTube video "Matthew Jenusaitis – Importance of Creativity in Business"
Think – Multiple Choice Questions (3)
Can creative skills be learned and developed? Yes or No
Have you any tips or techniques of your own that you implemented over the years to improve your creativity?
Digital Tools can help boost the creativity of employees and business owners.
Yes – they boost productivity and creativity
No – they are a distraction and a waste of time
"Creative thinking is not a talent, it is a skill that can be learned. It empowers people by adding strength to their natural abilities which improve teamwork, productivity and where appropriate profits" – Edward de Bono
https://www.youtube.com/watch?v=MRD-4Tz60KE – Listen to Raphael DiLuzio take about the 7 steps of creative thinking
https://youtu.be/gyM6rx69iqg – watch Tina Seelig 's crash course in creativity to understand why it is an important skill needed in business and everyday life. 
https://blog.hubspot.com/marketing/creative-exercises-better-than-brainstorming – Creative thinking in business is becoming more of a necessity, the ability to think outside the box is becoming essential. In your work, if you find brainstorming does not enable creativity to flow, check out these 15 alternative exercises for brainstorming e.g., Mind-mapping or Storyboarding, to see the difference it can have on your creativeness
https://www.indeed.com/career-advice/career-development/creativity-exercise – People usually associate creativity at work with artistic jobs like illustration, graphic design, and the performing arts. However, most people can benefit from including creativity in their work processes. Creativity exercises are a great way to discover new ideas and improve overall creativity, so it's important to learn about the different activities you can use to expand your skills. This article explains what a creativity exercise is, describes the benefits of these exercises, and offers a list of 20 you can try individually or with a team.
https://truscribe.com/six-examples-of-creativity-at-work/ – the verdict is in; creativity is extremely important to the business.  From greater revenue to dealing with change, the benefits of creativity are better understood every day. Along with posts extolling the virtues of creativity are numerous guidelines for employing the creative process.  So, it's a good thing, and it's a practice anyone can learn and utilize—but is your workplace a creative one? What kinds of examples of creativity can be found at work?
https://www.forbes.com/sites/pragyaagarwaleurope/2018/06/04/heres-how-to-apply-creative-thinking-as-an-entrepreneur/?sh=72e060465d9e – Entrepreneurship requires passion, determination, a certain doggedness, and the ability to innovate. Running a small or medium enterprise takes a huge equal amount of courage and a pinch of madness too (I speak from experience!). However, the most important attribute ought to be created. Read Dr. Pragya Agarwal's "Here's How to Appy Creative Thinking as an Entrepreneur"
https://risepeople.com/blog/creativity-in-the-workplace/ – Creativity in the workplace is essential for innovation. Whether it's creative problem solving or the flexibility to decide how work gets done, creativity is integral to the employee experience and growth. Here are 6 ways to inspire creativity in the workplace
https://www.themuse.com/advice/creative-companies-to-work-for – here is a list of 19 companies that pride themselves in the culture of creativity
https://www.educba.com/creativity-tools/ – Creativity is the mother of all new ideas and innovation. It is that bright spark that leads to the development of revolutionary techniques and path-breaking inventions. There is a need for encouraging creative tools, innovation, and new ideas that will work toward a better future. "Thinking out of the box" has become a necessity these days, a strategy for survival in these tough times. Read more to investigate the tools which can help you on your path to creativity
https://www.alphagamma.eu/entrepreneurship/role-creativity-in-entrepreneurship/ – Creativity is one of the things that every leader and entrepreneur needs. People rarely laud entrepreneurs for their creativity in problem-solving processes. Creativity is often seen as the forte of those in both the writing and design domain. This article lays out the role creativity plays in entrepreneurship and its benefits.
https://podcasts.apple.com/gb/podcast/idea-to-value-creativity-and-innovation-with/id1199964981?mt=2  – Have a listen to the Idea to Value podcast, where every episode highlights the latest insights into creativity and innovation from experts across the world. The host, Nick Skillicorn, demonstrates the evidence behind what makes ideas happen, and has helped thousands of people through his unique insights into recent scientific findings on how creativity works. He also shows you how to turbocharge innovation programmes so they can finally deliver on the value and ideas you've been struggling to execute.
https://www.ideatovalue.com – Get your free training on how creativity can be improved by registering at
Discuss – What are some digital tools you have used to allow your creativity to flow at work?
Finally… Want to find out what digital tools are available to help improve your creativity skills in entrepreneurship?
Go to our Indeed website and browse through our Toolkit… https://indeedforyou.eu/